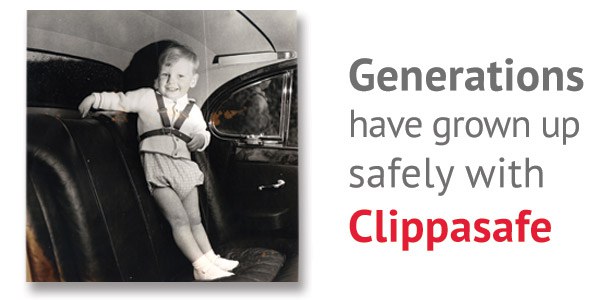 About
We at Clippasafe consider ourselves to be insightful and understanding when it comes to your child's safety. With families of our own, we really do appreciate the need for quality products that keep babies and young children safe in the home, car and when out and about.
Leading the way in the child safety market, we constantly build on our reputation for developing innovative products, and we supply all the major UK nursery retailers with Clippasafe or own brand products.
Our family-run company has been manufacturing child safety products for over 60 years. It all started when Gordon Cheetham first produced a range of child safety harnesses in the late 1950s.
When Gordon's sons, Roger and Russell took over the business in 1988, they thought it was an ideal opportunity to follow in their father's footsteps and work on producing new and innovative products.
Following market research, they found that many first-time parents were not aware of many dangers found in everyday environments for inquisitive young children. With this firmly in their minds, they went on to work out how they could solve the growing number of child safety issues in and out of the home.
After a lot of hard work and many designs later, the Clippasafe brand evolved into a whole world of child safety products, and we've never looked back since.
"Today's parents are more independent and rely less on their own parents for help when bringing up their children, often missing out on vital experience. There are many potential hazards in and out of the home which parents may not realise, so we aim to provide them with essential tools to educate and minimise danger." says Roger Cheetham, managing director and father of three.